The heads of StellaGroup and Legrand France met on June 30 at the Legrand Innoval Pantin for an initial update on the progress of their collaboration.
For several months, marketing and technical teams have been developing native compatibility between Eveno and Profalux roller shutters (two StellaGroup brands) and Legrand controls.
The two Industrial Groups share a common vision of the meaning they give to their products: to be a source of improvement in people's lives, with simple solutions that protect the environment.
In this way, they combine their knowledge of electricians and carpenters to facilitate the installation and commissioning of motorized and automated roller shutters.
An unprecedented, natively connected solution enables roller shutters to be controlled from wireless, battery-free controls – the famous Self-e – and also from a single application: Home + Control.
Beyond technical compatibility, the benefit for the user is the aesthetic harmonization of roller shutter controls for seamless integration with other Legrand controls – Céliane or Dooxie ranges – in the home.
Each Group is delighted with this partnership, which will simplify relations between professional electricians and joiners, thanks to direct connected compatibility for both new-build and renovation projects; for single-family homes and apartment blocks, and even for non-residential projects.
Eveno or Profalux roller shutters, automated or connected to Legrand solutions, meet the challenges of energy consumption control in both winter and summer, and satisfy the new requirements of the RE2020.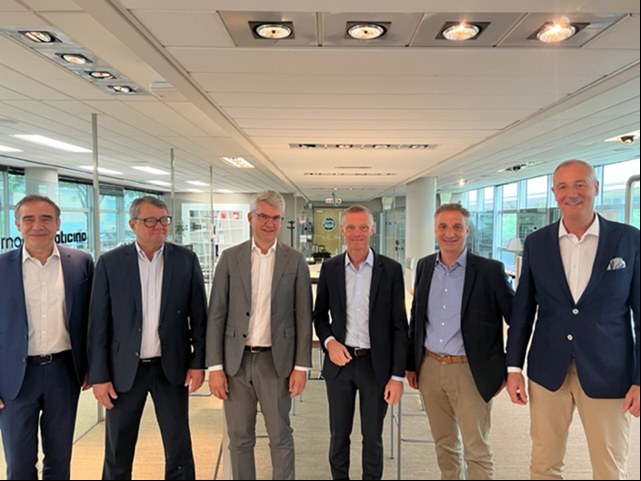 From left to right
Emmanuel Ballandras, Partnerships and External Relations Development Director, Legrand France
Daniel Ether, Market Product Manager, Stella Advanced Technology, StellaGroup
Frank Schädlich, Managing Director Commerce, StellaGroup
David Descamps, Managing Director, Legrand France
Frederic Lapellegerie, Managing Director Technical, StellaGroup
Pascal Cros, Sales and Marketing Coordination Director, BU Closure of the Bay,